Arizona is home to some of the best spa resorts in the country. From rich and rejuvenating facials to traditional massages, many spa treatments encompass elements unique to the Arizona Sonoran Desert such as natural river rocks, authentic Arizona honey and a plethora of desert herbs and botanicals. From head to toe, get pampered in southwestern elegance. Listed below are the top spa resorts in Arizona.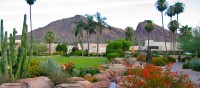 Sanctuary Resort on Camelback Mountain is located in Scottsdale, Arizona. Situated on Camelback Mountain, this boutique style resort offers an Asian-inspired Spa complete with Watsu pool and meditation garden. Enjoy treatments indoors or outdoors with over 12 treatments rooms. In addition to the many spa services offered, enjoy a state of the art fitness center and Pilates studio. On-site yoga and nutrition consultants are available to enhance your spa experience making Sanctuary one of the best spa resorts in Scottsdale.
---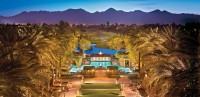 Hyatt Regency Resort is also located in Scottsdale, Arizona at the base of the McDowell Mountains. Built on 27 acres of natural Sonoran Desert, Hyatt Regency is surrounded by flowering cacti and lush desert landscaping. The Spa Avania, located on-site at the resort, takes a holistic approach to Spa treatments. Choose from over 70 unique spa treatments that range from a Thai massage to a White Clay Mineral Wrap. Treatments at the Spa are choreographed to your own body's internal natural timing. "Avania" is reached when the body's five senses perfectly align. Experience Avania for yourself and see why Hyatt Regency Resort is one of Scottsdale's best spa resorts.
---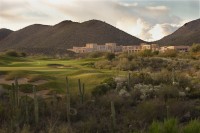 JW Marriott Starr Pass Resort is located in Tucson, AZ. Nestled near the Tucson Mountains, Starr Pass is a full-service resort complete with a world class spa. Hashani Spa offers special treatments uncommon to some of the best spa resorts in the state such as an Egyptian lotus milk bath or the popular Shiradara ancient Indian treatment. Spa dining is also available offering cuisine both healthy and delicious. Dine outside in a classic cabana overlooking the swimming pool and magical desert setting. Also available are fitness classes to enhance your experience. Yoga and Pilates are available as well as personal training sessions by certified fitness instructors. The JW Marriott has everything you need to make your Arizona vacation a memorable one.
---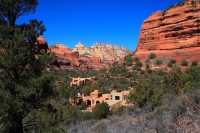 The Enchantment Resort is located in Sedona, Arizona amidst the famous Red Rocks. Enchantment is the best spa resort in the city of Sedona offering superb guestrooms and suites along with a luxurious and rejuvenating spa experience. Mii amo Spa, located on-site is Native American inspired with the energy and splendor of Sedona. Located in the higher elevations of the state, Mii amo offers both outdoor pools in addition to an indoor pool complete with fireplace. The Spa at Mii amo offers an all-inclusive experience from multiple spa treatments to other activities such as fitness, art and cooking classes. Enchantment Resort has been ranked by Travel & Leisure Magazine as the world's best spa destination. Come and see why Enchantment is the best spa resort in the state of Arizona.
---
Book Arizona's best spa resorts at a lowest price guarantee with AZ Resorts. The staff at AZ Resorts is committed to finding and publishing the lowest prices available to provide you the best deals possible. Book your vacation now at www.azresorts.com and save big.