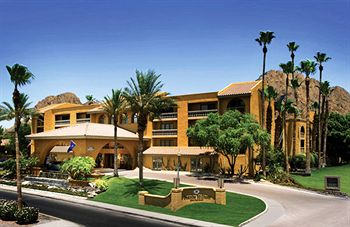 The Pointe Hilton Squaw Peak Resort by Hilton is Spanish style resort situated right in the heart of Central Phoenix right at the bast of the Phoenix Mountain Park. The resort features over 27 acres of luscious landscape grounds and offers over 550 suites to accommodate all guests.
The resort features a few onsite dining options that include Hole in the Wall serving up food the cowboy way in a 1940's style ranch house that gives you a feeling of the old west. Slim Pickins serves causal poolside dining at the main pool and also Rico's Amerian Grill serving breakfast, lunch and dinner.
The Pointe Hilton Squaw Peak Resort offers one of the best full service spa salons in town, The Tocasierra Spa that will accommodate any special occasion that you are looking for.
This Phoenix resort is great for Summer time vacations also as it features the Hole In The Wall River Ranch Water Park. Attractions include a lazy river, refreshing pools and many poolside activities that are suited well for families and kids.
Tennis is another great attraction at the Pointe Hilton Squaw Peak Resort and Spa as it boasts three fantastic lighted tennis course as well as first class gym and fitness facilities.
Address & Directions
7677 N 16th St,
Phoenix, AZ, 85020
1-866-218-6941