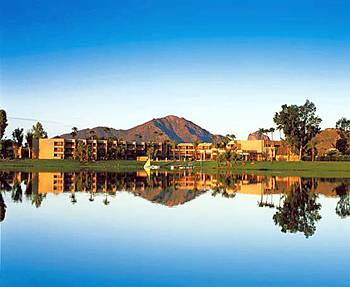 The Millennium Resort Scottsdale which is a 3.5 star resort in Scottsdale offers 125 deluxe guestrooms with Southwester charm and decor in addition to 51 two and three-bedroom villas each individually and uniquely decorated. Millennium Resort has a 36-hole championship golf course on site, fitness center and a restaurant that sits near a 60 acre lake. Shopping, golf, and nightlife are minutes away from the resort.
The 36 hole golf facility offers the Palm and Pine championship golf courses along with a full practice facility to soothe any golfers looking to relax in Scottsdale at a golf resort. The resort offers also fabulous dining at the Pinion Grille as well as a full service bar and poolside bar.
Parking is complimentary at this hotel and rates are very affordable, so come see why the Millennium Resort Scottsdale might fit the budget for your golf group or leisure vacation.
Expert Tip: This resort offers complimentary shuttle service to the Gainey Ranch Spa, located two miles away. Spa fees apply.
Address
7401 N Scottsdale Rd,
Scottsdale, AZ, 85253
1-866-218-6941